Giornata di studio e confronto

Consumo di sostanze psicoattive nei luoghi di lavoro

Prevenzione e gestione

Facoltà di Medicina e Chirurgia (Sant' Andrea delle Fratte), Aula 6, Edificio B

Perugia, 28 Gennaio 2011

Ore 9,30 Iscrizione, accoglienza, saluti

Ore 10,00 Presentazione della giornata e introduzione

Giuseppe Masanotti

Ore 10,30 Stili di consumo tra rischio e piacere

Carla Collicelli

Ore 11,00 Prevenzione: approcci teorici e metodologie

Enrico Tempesta

Ore 11,30 I contesti della prevenzione

Lamberto Briziarelli

Ore 12,00 Aggiornamenti in tema di alcol e lavoro

Giuseppe Petrioli, Elena Carucci

Ore 12,30 Lunch

Ore 14,00 Possibile modello di gestione basato sui principi della promozione della salute

Giuseppe Masanotti

Ore 14,30 I risultati del progetto europeo SMART sui consumi e problemi alcol - correlati

Allaman Allamani

Ore 15,00 Esperienza ASL 2, Perugia

Giorgio Miscetti

Ore 15,30 Un intervento preventivo nella ASL 8, Toscana

Guglielmo Bauleo

Ore 16,00 Discussione e conclusioni

Ore 16,30 Chiusura dei lavori

Moderatore della giornata Lamberto Briziarelli

P

ROGRAMMA - Convegno Internazionale

MONDAY, APRIL 27TH

09:30 Registration and welcome addresses

Chair:

Lamberto BRIZIARELLI

Representative of Labour/Health Ministry, Italy (invited)

Renato Locchi, Mayor of the City of Perugia

Francesco Bistoni, Chancellor of the University of Perugia

Adolfo Puxeddu, Dean of the Faculty of Medicine, University of Perugia

Massimo Porena, Direttore Dipartimento di Specialità Medico Chirurgiche e Sanità Pubblica

Zinta Podniece, European Agency for Safety and Health at Work, Bilbao

Jürgen Scheftlein, Directorate-General for Health and Consumer Protection, European Commission

Guido Guarnieri, Regional President Italian Society of Public Health, Preventive Medicine and Hygiene

10:45 Move Europe - background and achievements

Giuseppe Masanotti, University of Perugia

11:00 Towards a Healthier Lifestyle in Working Life

Chair:

Maria Dolores SOLÈ

Healthy employees in healthy organisations

Andreas Horst, Ministry of Labour and Social Affairs, Germany

Promoting comprehensive workplace health: a successful business strategy

Alessandro Lesma, ENI, Italy

14:00 Comprehensive lifestyle management

Marc De Greef, Prevent, Brussels, Belgium

Promoting healthy lifestyles policies in all workplaces

Giaimo Mariadonata, Region of Umbria, Italy

Healthy construction, zero accidents

Strambi Fabio, Polo for WHP in the Province of Siena, Italy

"Impresa Sana®": a modern approach to health management in companies

Aim zero accidents in a healthy company

Giancarlo Magarotto / Pietro Dottor, Dottor Group, Italy

Integrated health management: experiences from BASF

Christoph Oberlinner, BASF SE, Germany

Worksite health promotion 'Gezonder'

Henri Hendrickx, SABIC Innovative Plastics, The Netherlands

"Fit to Fight": the integration of workplace health promotion into Actavis Iceland culture

Leo Sigurdsson, Actavis, Iceland

Experience of WHP in a Spanish Hospital of 1.200 workers

Xavier Orpella / Jordi Schlaghecke, BSA, Spain

Well-being at work: from project to policy

Koen Van Gestel, Procter&Gamble, Belgium

Vitality as the mission of Unilever

Beáta Vince, Unilever, Hungary

How to win with wellness - Mars UK

Arthi Santa, Mars Chocolate, United Kingdom

A successful tradition to achieve physical, mental and organisational health through quality

management system, experienced line managers and workers participation

Slavin Yanakiev / Sv. Giokova / Zaprian Zapryanov, "Progress" JSC, Bulgaria

Inspiration: a program promoting a healthy lifestyle in StatoilHydro

Trond Eirik Fosse / Geir Olav Hjertaker, StatoilHydro ASA, Norway

Our proven equation: work + exercise = better health (Ceska rafinerska, a.s.)

Ivo Hamacek, Ceska rafinerska a.s., Czech Republic

STEP: take step for your health

Béla Cseh, MOL Nyrt., Hungary

Diageo: a mentally healthy workplace

Sylvia Shepherd, Diageo Scotland Ltd., United Kingdom

Working life on the move: nutrition, fitness and well-being

Reinhold Sochert, BKK, Essen, Germany

Promoting health in AUSL Forlì

Magda Zignani, AUSL Forlì, Italy

Worksite health promotion "Safety and vitality at work"

Joost de Bie, Waterland Ziekenhuis, The Netherlands

WHP at the convent hospital St. Elizabeth: "Take a bite out of the mango"

Berta Reiter, Convent Hospital St. Elizabeth, Austria

Overweight hospital staff and promoting workplace health

Eugene Rwamucyo, Centre Hospitalier de Sambre-Avesnois", France

Lifestyle intervention as an important part of HR development at Deutsche Bahn

Christian Gravert, Deutsche Bahn AG, Germany

The integrated approach towards WHP in the WSK "PZL-Rzeszów" S.A.

Katarzyna Skret, WSK, PZL-Rzeszów" S.A., Poland

Transportes Metropolitanos de Barcelona (TMB): a social responsible company

Laura López, TMB, Spain

H & S management moves a sustainable economy

Stefan Bayer / Andrea Freundl, RHI AG, Austria

Healthy nutrition and well-being at work

Tim Lammens, NV Delhaize Group, Belgium

Moving towards the right weight

Felicia Steliana Popescu, Unilever Romania S.A., Romania

Food: fighting obesity through offer and demand

Nathalie Renaudin, ACCOR Services, France

Role of the innovative style in the development of comprehensive WHP practice

Svetlana Dimitrova Parashkevova, OPTIX Co, Bulgaria

Smoke free workplace at Hispano Suiza Polska

Halina Wróblewska, Hispano Suiza Polska, Poland

Encouraging quitting smoking through a workplace based initiative

Mihaela Stoia, Rosu SRL, Romania

Well-being at RTL Group

Romain Mannelli, RTL Group Corporate Centre, Luxembourg

Occupational health services act against tobacco-related cancer

Yves Helbecque/Marie-Christine Pham/Séverine Line, ASMIS-Service de Santé au Travail, France

10:00

Enjoyment of a healthy workplace: supporting physical and mental health

Steve Bell, Scottish Centre for Healthy Working Lives, Hamilton, Scotland, United Kingdom

The recipes for health

Piero Di Blasio, Studio Odontoiatrico Di Blasio, Italy

Lifestyle in the workplace

Maria Rosaria De Monte, zona fiorentina sud-est ASL 10, Italy

The passion for health and safety in the workplace starts from the employer!

Matteo Cielo, San Matteo SPA, Italy

Promotion healthy lifestyles at work: breaks on the move

Erminia Battista / Massimo Gigli, ASL2 Umbria, Italy

Health and well-being: University of Glamorgan's Experience

John Curtis, University of Glamorgan, United Kingdom

Lifestyle management at the City of Dortmund

Egmont Baumann, City of Dortmund, Germany

Staff well-being in Kerry local authorities

Tom Curran, Kerry County Council, Ireland

Health! Programme for promoting wellbeing at work in the municipality of the City of Pori

Tuula-Maria Asikainen, City of Pori, Finland

Eurotransline: fit in job

Anika Harb, Eurotransline, Int. Forwarding & Transport Company w.l., Austria

Healthy teachers at secondary school of nursing

Maja Klancic, Srednja zdravstvena sola, Slovenia

To Beijing on foot

Erik Van der Cruysse / Bie Van Woensel, ADMB, Belgium

Health promotion in the Tapiola group

Leena Järvinen, from Tapiola Group, Finland

CIGNA Plusvita: a new way of life

Belén H. Sánchez, CIGNA, Spain

Worksite Health Promotion "A healthy proposition"

Bertus Jonker, AGIS Zorgverzekeringen, The Netherlands

Health promotion measures in the Petroleum Safety Authority Norway

Gro M. Galta, Petroleum Safety Authority, Norway

With physical activity to fitness and health

Ljubomir Mohoric / Boza Bolina, Osnovna Sola Antona Martina Slomska Vrhnika, Slovenia

Promoting mental health at work: outlook of ENWHP next initiative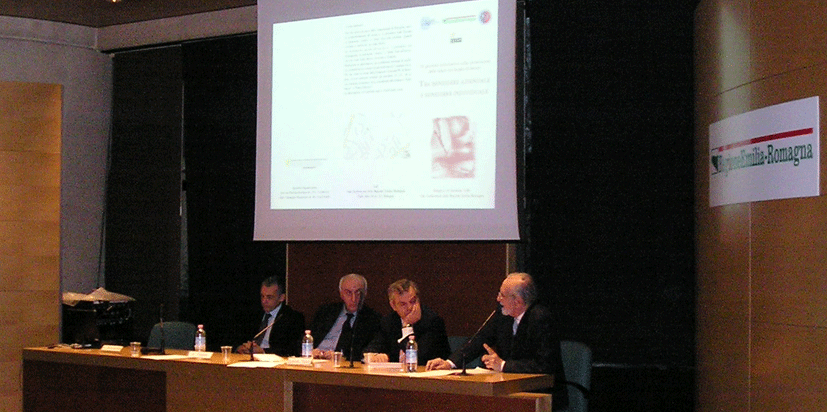 Bologna, 19 dicembre 2006, Sala Auditorium della Regione Emilia Romagna
IX giornata informativa sulla promozione della salute nei luoghi di lavoro
"TRA BENESSERE AZIENDALE E BENESSERE INDIVIDUALE"
Gli interventi:
Foligno 22 maggio 2007, Auditorium "San Domenico"
"La gestione della salute e sicurezza dei lavoratori nei cantieri stradali ed autostradali in presenza di traffico veicolare"
Distribuzione materiale promozionale sulla campagna
Pisa 14-16 Ottobre 2007, Palazzo dei Congressi
"Il futoro dell'Igiene, della Medicina Preventiva e della Sanità Pubblica: Cambiamenti, Priorità, emergenze"
Presentazione e distribuzione materiale promozionale sulla campagna


Convegno
"La salute genera profitto – Collaboratori sani in aziende sane"
La salute è un bene prezioso !
Il convegno "La salute genera profitto: collaboratori sani in aziende sane", organizzato dalla Fondazione Vital a Bolzano il 16 novembre 2007, dimostra che le aziende che attuano programmi di promozione della salute realizzano notevoli cambiamenti in positivo e incrementano l'efficienza del lavoro, riducono i costi, migliorano la qualità ed accrescono le proprie prestazioni.
visitare il sito http://www.fondazionevital.it
chiamare il numero 0471 302 839 oppure
- inviare una mail all'indirizzo vital@Lps-pr.it
Tagung "Gesundheit als Wirtschaftsfaktor"
Gesundheit nutzt allen !
Unternehmen, die gesundheitsfördernde Programme umsetzen, geht es besser. Die Gewährleistung eines gesunden Arbeitsumfelds ist eine Investition zur Erhöhung der Arbeitsproduktivität und zur Qualitätssteigerung. Deshalb steht die am 16. November 2007 von der Stiftung Vital in Bozen ausgerichtete Tagung unter dem Motto "Gesundheit als Wirtschaftsfaktor – Gesunde Mitarbeiter in gesunden Betrieben".
Tel. 0471 302 839
Presentazione ppt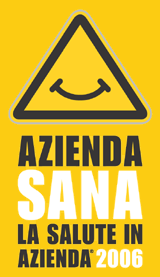 Venezia, 23 novembre 2007 presso il Terminal Passeggeri della Marittima di Venezia
Competizione e successo in aziende sane evento di premiazione della III edizione del concorso "Azienda sana - la salute in azienda
e-mail: info@aziendasana.it o www.aziendasana.it
Perugia, 6 Dicembre 2007, Sala Accademia anatomo-chirurgica della Facoltà di Medicina, Via Enrico dal Pozzo (presso presidenza della Facoltà di Medicina)
X giornata informativa sulla promozione della salute nei luoghi di lavoro
Nuove linee di sviluppo della prevenzione nei luoghi di lavoro
Gli Interventi:
Bagno a Ripoli (FI), 18 dicembre
La Promozione della Salute nei Luoghi di Lavoro: proposte ed esperienze in Toscana e Piemonte
Todi (Perugia)15 Dicembre, 9-13.30 Centro Congressi, Palazzo del Vignola
Attività fisica adatta in Umbria
"Gaining a Competitive Advantage Through HPM"
September 4-5, Zurich 2008
Topics:
· Wellness Strategies for the Aging Workforce
· Employee Engagement through Well-being Programs
· How to Measure Presenteeism and Prove Return-on-Investment
· Weight Management Programs at the Workplace
· Hypertension and Cardiovascular Disease - Managing a Global "Killer"

+ for the first time: Health Management Vendor Showcase
Featuring company case studies, breakout sessions and presentations by leading researchers, policy makers and health promotion experts.
Target audience:
Human resource and business managers, occupational physicians and nurses, public health, health promotion and social security professionals.
Location
Forum Uetlihof, Credit Suisse, Uetlibergstrasse 231,
Zürich, Switzerland
Registration Fee
€425 early bird rate (until June 1)
€495 (after June 1)
Contact
Wolf Kirsten at wk@wolfkirsten.com
More details including the preliminary program and registration page to follow on the IHPM website (www.ihpm.org)

Presented by:
Wolf Kirsten, International Health Consulting
and
IHPM, Institute for Health and Productivity Management
Hosted by:
Credit Suisse
Sponsored by:
Novartis
20th ECOG Congress - 17-20 Novembre, al Parlamento Europeo
I dettagli: http://www.ecog-obesity.eu/brussel2010/.
Documento di preparazione al convegno è stato pubblicato sulla rivista ufficiale del parlamento: The Parliament Magazine issue of November
International Health Promotion Awards Symposium, December 6-7, 2010 in Rome, Italy

Join world health leaders in recognition of innovative and best practices in community and workplace health promotion programs. Registration available at http://www.aihpa.org/agenda.asp
For more information or to register to attend, go to www.aihpa.org. The Awards and Symposium is hosted by URAC http://www.urac.org/ and GKEN http://gken.org/